From The Archives: A Day Without Smartphones
Back in 2014, S and I took a walk around London without our smartphones. Here's what happened, written the following day.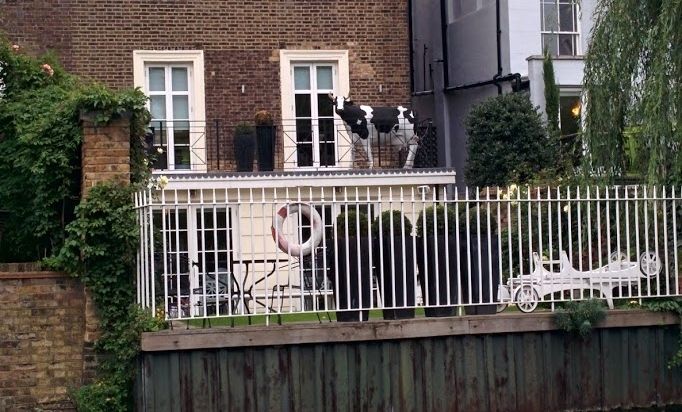 Over the past few years there has been a growing movement against smartphones and near-constant digital connection. Technology is my hobby and my profession, but I've been trying to be more mindful with how I use and interact with these tools.
So, back in 2014, S and I took a walk around London without our smartphones (except for one on airplane mode for photograhs). Here's what happened, written the following day.
---
We walked to the Northern Line at Clapham Common at around 12:30. From there we got the tube to Finchley central - not quite the end of the Northern line - assuming that as Finchley has three stops it must have something interesting to do. We ventured into Jewish bakery and bought a mini chocolate croissant each - which was delicious.
We decided to walk further away from Finchley and towards Golder's Green. We got to (what we believed to be) Golder's Green high street and wandered into some of the shops. The chartity shops were quite nice (with just one exception) and filled with interesting local items.
We had lunch at a vegetarian restaurant/cafe, the name of which escapes me. I had a vegetarian wrap and S had falafel and hummus. We both tried to be adults and even had a coffee each. In the toilets the wallpaper was made up of pages from old books.
A poem caught my eye 'Stopping in Woods on a snowy evening' by Robert Frost. When I told S about it I said it was about a horse that stopped in a wood on a snowy evening. We both laughed. From there we got the 13 bus and got off and walked from St John's Wood down towards Regent's Park.
Our initial intention was to walk from Regent's Park to Camden around the canal but I may have taken us in the wrong direction after looking at the map in the park. So instead we got to follow the canal to Little Venice via a 'Before I Die' board which we both wrote on.
I then may have, possibly, nearly, tripped on a mooring point and almost - if it wasn't for S holding me up - fallen into the canal. We made it to Little Venice which was nice and quiet although seemed a little under utilized. Went to the toilet in a nice pub just next to the canal which had a theatre above it. The theatre seemed quite interesting but was probably a little too far away to be a regular visit. We did think instead that we should visit the our local independent theatre instead.
The canal ended just around the corner from Little Venice at Paddington. It was unbelievable that the quiet and tranquility of Regent's Canal was so close to the chaos of Paddington and central London. We walked along towards Baker Street and back into Regent's Park. This route took us past the zoo where we managed to get a glimpse of a penguin.
We managed to make our way into Camden stopping in at a number of small music venues on the way to see if anything interesting was on. There were a few things but were too early so we decided to go to a Thai restaurant near the Roundhouse for dinner. The food there was delicious and we even tried different Thai curries to the usual Green/Red.
Instead of having pudding in the restaurant because - as S correctly pointed out - they tend to disappoint, we opted to have an ice cream from a new Gelatio store opening just a little further down the road. It was nice but probably not quite as good as the ice cream we had in South Kensington the day before at the Proms.
We were going to try at watch a band called 'H…S…' at The Monarch who were due to be on at 9pm but we had run slightly late on our search for a pudding. On our walk about into Camden to find food we had found the 'Backyard Cinema' which seemed to be a pop up cinema in an alley at the Stables markets. We thought we may have a look in on our way past after the pub.
We went to The Monarch and found that the band were running late and came on nearer 22:00 rather than 21:00. S had got a drink and I had settled on water from my Camelback. The band weren't really all that interesting.
We decided to leave.
On our way back to the tube station we revisited the cinema and found they were playing Grease. There was a ticketed area with nice seats but right behind that they had benches so we sat there for free and watched the Prom scene with all the dancing.
We headed back to the tube but instead of going back to Clapham Common we decided to get off at London Bridge where I believed we could get a Southern Train back to Clapham Junction. Unfortunately this wasn't true so we instead headed back to Waterloo East to get the bus from there.
This involved getting a First Great Eastern train back to Waterloo. While waiting on the platform we could see the Shard and decided to take selfies - not realising the train was a short one and so nearly missed the train having to run on as the doors closed! Arriving, finally, back at Waterloo we headed outside to get the bus homeward bound.
Being able to disconnect from the digital world for a day was hugely liberating and reminded us that it is possible to live without always having to look everything up or always know when you get an email. Its not really practical not to have a phone anymore but it provided a lot of reflection on our relationship with the phones.
I noticed that I kept having an impulse to check my phone every time I wasn't actively doing something - like standing at the traffic lights. It also meant that S and I just spent time with each other, having fun, and getting lost in the fun of the day. Improvising and being spontaneous is a huge rush and thoroughly enjoyable when you get to do it with someone who you can relax with and enjoy their company.
All in all, a successful Date Night (Day).